Volcanoes of the Eastern Sierra Nevada:
Geology and Natural History of the Long Valley Caldera
Indiana University Earth & Atmospheric Sciences E188 (3cr)
Collins Living-Learning Center L130 (3cr)
(Approved for CASE N&M science and Honors credit)

Application deadline extended! We are continuing to accept applications for Summer, 2019, and will continue accepting new applications through the end of February, or until the class is filled.
Check out our photographic journal from last year's Sierra class at 'News from the Field' and Ellen Bergan's wonderful video "The Mountains are Calling".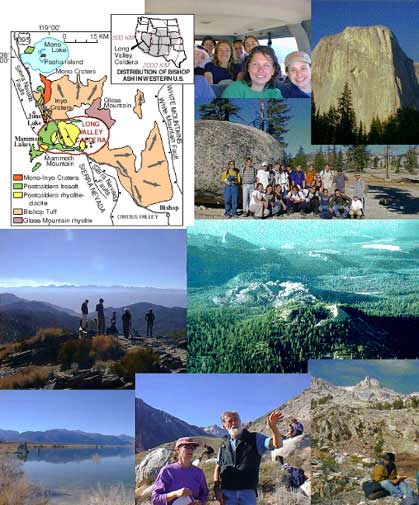 Photos courtesy of Robert Phinney, Princeton University.

This 3-credit course includes a two-week long field-oriented short course that will introduce a group of 14 to 18 undergraduate students to the geology and natural history of the eastern Sierra Nevada mountain chain of eastern California. The course will focus on the geological processes and natural history of one of the most geologically and biologically dynamic parts of the continent, as well as the natural hazards and environmental issues facing the a unique and environmentally sensitive area of the western U.S. Students will be exposed to critical thinking on a series of scientific, societal and ethical topics and expected to actively participate in oral and written projects. The final project will be a class web site with each student's contribution equivalent to a 10-15 page research paper.



-------------------------------------------------


The course will be taught as part of Summer I session, and has as a prerequisite a seminar session that will meet in Bloomington during the second half of the spring semester, under the listings Geol. Sci. G190 (1 cr.) and Collins L100 (1 cr) The 15-day field excursion to the Sierra Nevada is planned for May 9 - 23.

-------------------------------------------------

"The trip was one of the best experiences of my life!"
Check out some other student comments from past participants in the Sierra class!

Check out the article from 'Teaching & Learning Magazine' on the Sierra Field Class, as well as our on-line photo journal -- Click on 'News from the Field'!
"Mount Whitney Massif" Courtesy of Sam Roberts Photography